During the pandemic, I started running … and I never stopped. Since June 1, 2021, I've been running every single day, at least a mile a day. In the process, I've racked up more than 1,000 miles, raised more than $7,000 dollars for more than 10 different causes, returned several lost items, and logged runs in more than 12 different cities. And, yes, I'm still going. Want to help? Let's do this! See links below. Also, follow my hashtag across all social media (#sekouherocharityrun) for even more opportunities to give.
***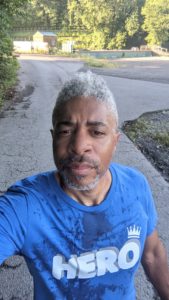 HISTORY: On June 1, 2021 Sekou started his very first run streak, declaring his intention to run every single day for the month of June, his birthday month. By the end of his first week, others had decided to join him in solidarity and they committed to moving their bodies for the month of June as part of Sekou's impromptu "movement of movement." By the end of June, 45 people from all over the country had joined in, committing themselves to exercise in many different ways including walking, biking, doing yoga, and even powerlifting.
As the days ticked down toward his birthday (June 24) and the end of the month, Sekou considered pushing himself even further. This idea became a reality when one of his friends, Korby Marks, offered Sekou $1 per mile for any miles he accumulated during the month of July. Energized by the offer, Sekou committed to a second month of his run streak. As he began to talk about it publicly, more people joined in by pledging from $.50 cents to $1.50 per mile.
On July 31, Sekou "completed" his July run with 14 sponsors pledging money from all across the world, including Dubai. He donated 100% of the proceeds to seven different nonprofits that service the unhoused populations of four cities: Nashville, Memphis, Louisville, and Saint Louis. The nonprofits he donated to were all made known to him during the quarantine as he embarked upon an unexpected journey of servicing the unhoused through his HERO clothing brand.
Speaking of which, in December of 2020, the HERO clothing brand debuted in downtown Nashville at the third annual Hoodies for the Homeless event that was created by Project Love Strong, a Nashville nonprofit that works directly with the unhoused population. Sekou created the innovative HERO clothing brand in order to provide brand-new clothes and wearable affirmations to the unhoused. HERO, which stands for Helping Everyone Reaps Optimism, is all about giving back and making a difference in the world. At that initial event in December, Sekou was able to donate 55 brand-new hoodies to the unhoused, most of whom expressed surprise that the hoodies were brand new. Since then, the 1-for-1 brand modeled after TOM'S Shoes has grown rapidly with mentions in the press and in several church pulpits, plus customers in at least 17 states and 2 countries.
In March 2021, despite stormy weather, Sekou drove from Nashville to Memphis where Lenora Brown and Joy Doss, the HERO Brand Ambassadors for Mississippi and Memphis respectively, organized drop-offs at two women's shelters: The Old Path and Hospitality Hub. The HERO gift bags were previously stuffed by Jacinta Velasquez, the HERO Brand Ambassador in Louisville, KY. Included in the bag were items provided by Project Love Strong, In God's Hand, Wasidah Francois, Kelvin Moses, Persephone Felder-Fentress, and Simon & Schuster. Among the many gifts donated: a New York Times best-selling children's book by Misty Copeland, clothing, cosmetics, toiletries, compact mirrors, collagen masks, beauty products, a HERO Cream handmade by Wasidah Francois, and, of course, brand-new HERO clothing. The donations were deliberately made during Women's History Month as an effort to take care of moms who happen to be unhoused. This was due, in no small part, to the fact that Lenora Brown (Mississippi HERO Brand Ambassador), used to be an actual resident at a women's shelter when she unexpectedly found herself pregnant and homeless many years ago.
"If you'd told me that I'd ever be doing this type of work, I wouldn't have believed you," said Sekou who made his sudden pivot toward in-person philanthropy after an impactful experience volunteering with the unhoused at First Baptist Chuch Capitol Hill in downtown Nashville just before the pandemic.
The seven nonprofits that Sekou made HEROIC donations to are Project Love Strong, In God's Hand, The Old Path, Hospitality Hub Memphis, Unhoused Saint Louis, New Directions, and Manna House Memphis. The total pledged amount was $980 which was split evenly between the organizations. In June, he ran 62 miles thanks to training with Black Men Run Nashville. In July, he exceeded his stated goal of 65 miles, ending the month at 74 miles, which brought him to a two-month total of 136 miles– roughly half of the distance from Nashville to Atlanta.
As of the creation of this campaign he has been running every single day for 93 consecutive days (at the time of this writing). His goal is to complete a grand total of 500 miles and raise a total of $5K for the unhoused by the end of the 2021 calendar year.
Please make a donation of any amount. You can also support both Sekou and the unhoused by shopping the 1-for-1 HERO store at giveherohoodies.com. If you'd like like to tip the runner directly, you can do so at cash app $sekouwrites.